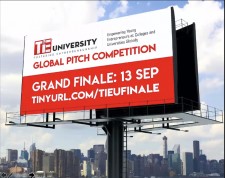 13 student teams representing TiE chapters from USA, Canada and Asia participated in the competition; winning prizes worth $50,000
SANTA CLARA, Calif., September 16, 2020 (Newswire.com) - ​​​​​​​​​​TiE Global hosted the 2nd edition of the TiE University Pitch Competition on September 12-13, 2020. Cash prizes of close to $14,000 and almost $40,000 worth of in-kind prizes were given out to the 13 finalists.
TiE Atlanta's Aerodyme Technologies from Georgia Institute of Technology came in first, winning $5000. TiE Silicon Valley's team Ambii from San Jose State University bagged the second prize, winning $3000; while TiE Toronto's LSK Technologies, from the University of Toronto came in third, winning $2000.
The winning team, Aerodyme Technologies created a novel device that saves fuel costs for tractor-trailers by minimizing aerodynamic drag. Ambii, which came in second, provides an in-store music streaming platform for retail outlets, cafes and restaurants without the hassles of licensing. Third prize winner, LSK Technologies, a medtech startup, created a diagnostic device for testing infectious diseases such as Covid-19 at the point of need.
Apart from the top three winners, prizes were announced in various other categories. Silicon Valley's Ambii and New Jersey's Volant from New Jersey Institute of Technology jointly received a $1,500 "Best Elevator Pitch" award. Similarly, Teams Clean Electric from IIT/BHU, Varanasi representing TiE Mumbai, and Aruga Technologies from Carnegie Mellon University representing TiE Pittsburgh jointly received a $1,500 "Technology Innovation" prize. Frinks, from IIT Hyderabad, representing TiE Hyderabad took the $500 People's Choice Award. All participating teams received technology and service in-kind prizes worth over $5000.
The competition also hosted a keynote address by serial entrepreneur Thejo Kote. Thejo sold his connected car startup, Automatic for $115 million to SiriusXm. He inspired the university startup teams saying, "The biggest lesson I've learned along the way is to make sure you enjoy the journey (of building a startup) and it's something that you learn from and grow from. Else it will be a lot more challenging."
The 13 participating teams from USA, Canada, India, Israel, and UAE were their local chapter winners; and subsequently had the opportunity to participate in the Global finals. The worldwide jury panel for the finals, consisted of top VCs and eminent investors from around the world.
Congratulating the winning team, Mahavir Pratap Sharma, Chairman of the TiE Global Board of Trustees said, "We are proud to support these young talented entrepreneurs, by providing a platform for our mentors to coach them and giving them an opportunity compete and win prizes on a global stage."
TiE University Global 2020 was jointly hosted by TiE Atlanta, TiE Hyderabad, and TiE Global. Speaking at the presentation ceremony, the TiE University program co-chairs Dr. Paul Lopez, SubbaRaju Pericherla and Viiveck Verma, said they are looking to expand the program participation to 40 chapters and 400+ universities worldwide by 2022.
Source: TiE Global
Share: