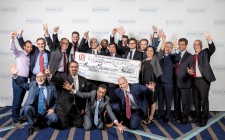 Houston, Texas, April 10, 2017 (Newswire.com) - A student team from Aachen (Germany), Medical Magnesium, are set to revolutionize orthopaedic surgery with their innovative implant technology which could prevent millions of unnecessary operations, speed up healing, and create better patient outcomes.
Founded by graduate students from RWTH Aachen University, Medical Magnesium stunned judges at the Rice Business Plan Competition (RBPC) with their research and commercialization prospects, winning over $700,000 from TiE in investment prize money including $200,000 from the TiE Angels Network and $500,000 from Elevate Capital (A leading early stage institutional VC based in the Portland Oregon, led by Managing Director, Nitin Rai, with roots in TiE Oregon Angels).
Speaking of their experience, Florian Coppers (CEO, Medical Magnesium) said, "We are overwhelmed by the positive response throughout the entire competition. Winning this investment prize is a big step towards transforming our technology into business. "
This was a special year for RBPC with 2014 winners Adhesys announcing the largest ever exit in the competitions' history. Ashok Rao, serial entrepreneur, principal investor and Chairman of Adhesys, and past Chairman of TiE Global said, "It has been an absolute pleasure working with some of the smartest yet most coachable young founders I've ever interacted with. I see the same potential in Medical Magnesium that I saw in Adhesys when they competed 3 years ago."
Arun Pasrija, Serial Entrepreneur President of TiE Houston said, "TiE has been running feeder competitions in Asia and Europe for RBPC for over 6 years, this is the first time a TiE team has made it into the finals. The entrepreneurs in our Houston chapter provide the essential mentoring, support and guidance these entrepreneurs need. It's a hugely exciting initiative for us, and something we're very proud of."
Nitin Rai, Chair of TiE Global Angel Alliance, Vice Chair TiE Global and founder of Elevate Capital stunned the audience by announcing a $500,000 of investment from Elevate to Medical Magnesium in a surprise announcement. Speaking about the company he said, "Elevate invests in passionate entrepreneurs who are solving real world problems with disruptive products. Medical Magnesium's ground-breaking implant technology and high calibre team was a compelling reason to support it with the investment."
Michael Raspino, Chair of TiE Houston Angels, who led a $200,000 investment prize said, "Medical Magnesium delivered an impressive presentation and pitched an investment opportunity with great growth potential, in a space where our investors have a demonstrated ability to add value beyond the money. TiE Houston is pleased to collaborate with investors from across the global network from Oregon, London and Boston to commit over $700,000 to this TiE sponsored start-up. "
The TiE Effect
​After winning the TiE European Finals in London, Medical Magnesium attended a three day intensive boot camp with TiE mentors from around the world helping to shape and prepare their business for RBPC. Kilian Reuss (CTO, Medical Magensium) said, "The boot camp with the great TiE Society has been the key factor to this success at RPBC 2017. In fact, it has taken our venture on a next level.…"​
Professor Vikas Shah, a serial-entrepreneur from the United Kingdom who worked closely with the team during their boot camp and the competition said, "every year we mentor entrepreneurs so they not only stand a great chance of winning at the competition, but also- most importantly- which stand a serious chance of succeeding commercially. Medical Magnesium are an exceptional team, with huge real-world business potential, it was an honour working with them."
The Journey Begins
For now, Medical Magnesium will be returning to Aachen to begin the hard-work of taking their learnings, contacts and capital to start building the next big RBPC success story. They plan to open an office in Houston, Texas after close of funding.

​Medical Magnesium - http://www.medical-magnesium.com/
About The Rice Business Plan Competition
​The Rice Business Plan Competition is the world's richest and largest graduate-level student startup competition. It is hosted and organized by the Rice Alliance for Technology and Entrepreneurship, which is Rice University's internationally-recognized initiative devoted to the support of entrepreneurship, and the Jesse H. Jones Graduate School of Business. This is the 17th year for the competition. In that time, it has grown from nine teams competing for $10,000 in prize money in 2001, to 42 teams from around the world competing for more than $1.5 million in cash and prizes. 161 past competitors have gone on to successfully launch their businesses and are still in business today, with another 15 having successful exits. These companies have raised in excess of $1.2 billion in funding.
About TiE
​The Indus Entrepreneurs (TiE), was founded in 1992 in Silicon Valley by a group of successful entrepreneurs, corporate executives, and senior professionals with roots in the Indus region. There are currently 13,000 members, including over 2,500 charter members in over 50 chapters across 18 countries. TiE's mission is to foster entrepreneurship globally through mentoring, networking, education, incubating, and funding. Dedicated to the virtuous cycle of wealth creation and giving back to the community, TiE's focus is on generating and nurturing our next generation of entrepreneurs.
TiE Achievements
Largest pool of intellectual capital anywhere - TiE Brand is globally synonymous with entrepreneurship - TiE's annual professional conferences, TiECon, are regarded as the largest entrepreneurial forum in the world and held in over 15 cities globally each year - TiE has helped boost the economies of the communities in which it operates - Economic wealth creation estimated at $200 billion - Significant involvement in social entrepreneurship - Influenced liberalization of key economic sectors in India and Pakistan
(Houston: http://houston.tie.org Oregon: http://oregon.tie.org & London: http://london.tie.org)
Source: TiE Global, Rice University
Share: