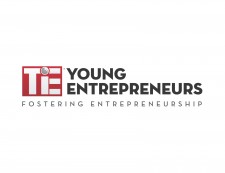 Sunnyvale, California, July 6, 2016 (Newswire.com) - ​​​How would you like to have a laundry rack that folds your clothes for you? Want to try some all-natural candy chews that will keep your energy, mental focus and performance up for hours? What if you could treat burn victims using placental cells? Or measure heart disease with an at-home test? Wouldn't it be great if you could charge your phone with kinetic energy from your daily jog? These are just a few of the revolutionary ideas developed by students in the TYE (TiE Young Entrepreneurs) Program around the world.
The TiE Young Entrepreneurs (TYE) Program is an initiative of TiE Global, which is a non-profit organization focused on fostering entrepreneurship. The TYE Program seeks to inspire, challenge and empower students to become the next generation of entrepreneurs. Since 2010, high school students have been coached with the TYE curriculum, in 20 cities around the world. Students learn about entrepreneurship, ideation and business basics, over the course of the school year.
"I feel that I learned more real-world skills in one year (through TYE) than I have in my 2 years in high school."

Gabe Sutherland, Student Participant
The TYE Program culminates with a local Business competition, and the winning team is then invited to compete at the TYE Global Finals.
"The TYE Program has taken a leadership role in providing high school students with an opportunity to experience entrepreneurship and connect them with mentors and business leaders from their local community." says Nitin Rai, Managing Director, Elevate Capital, who is the President of the TiE Oregon Chapter, and a TiE Global Board Member.
This year, the TYE Global Final Business Competition was held on June 24, 25, 2016 in Portland, Oregon. Student teams flew in from Seattle, Vancouver, Atlanta, Boston, New York, Washington DC, Dallas, Austin, Los Angeles, Irvine, San Francisco, Raleigh, Detroit, New Delhi, and Hyderabad to participate in the TYE Global Finals. Teams from Hubli, Kanpur, Jaipur, and Ahmedabad presented their business plans virtually. The winning teams won cash prizes totaling, US $11,500.
"TiE has done a remarkable job in giving students from diverse socio-economic and cultural backgrounds the opportunity to become inventors and entrepreneurs, These students will be driving future economic growth in our state and our country. We're thrilled that TiE is helping them recognize their ability to solve problems and make a meaningful difference in the world." says Rachel Jagoda Brunette, Program Officer at The Lemelson Foundation, one of the supporters for the TYE Program this year. For the first time, TiE organized a TYE Science Fair as part of the TYE Global Finals, so that student teams could showcase prototypes of their innovations.
During the year-long TYE program, students go through workshops focused on different aspects of entrepreneurship and create products/companies around their ideas. Students also have the opportunity to hone their business plans with 1:1 mentorship with instructors from the local entrepreneurial community. "I feel that I learned more real-world skills in one year (through TYE) than I have in my 2 years in high school." says Gabe Sutherland, one of the student participants.
The TYE program not only impacts the students in a very positive way, but also brings together the community of teachers, mentors, local companies and parents, to rally around a common purpose. Several students also receive summer internships with successful startups in their local community, as a result of the TYE program.
Cash prizes were awarded to the following teams at the TYE Global Finals:
Best Overall 1st Place – Focus Four |

TiE

South Coast -- $4000

Focus Four produces all-natural, tasty, fruit-flavored chews which provide mental focus and energy for up to four hours. Their goal is to keep students away from unsafe performance-enhancing drugs, improve productivity, and well-being.


Best Overall 2nd Place –

eMDream

|

TiE

Oregon -- $2000

EmDream makes a simple, at-home test for detecting signs of heart disease using only a saliva sample.


Best Overall 3rd Place –

Chilvaxx

|

TiE

Boston -- $1000

Chilvaxx strives to save lives by optimizing delivery of vaccines to rural areas. Their aim is to prevent disabilities and deaths due to lack of vaccines for preventable diseases, even in remote areas.


Best Customer Validation –

Validrugs

|

TiE

Detroit -- $1000

Best Execution – Street Yum |

TiE

Rajasthan

-- $1000

Best Business

Model–

Swab |

TiE

Vancouver -- $1000

Best Teamwork – REGEN |

TiE

Atlanta and Kare |

TiE

Seattle -- $1000

Best Elevator Pitch – Spry |

TiE

Washington DC -- $500
About the TYE Global Program
The TYE Global Program is an initiative to inspire, challenge and empower students to become the next generation of entrepreneurs and business leaders. Teenage youth (grades 9-12) are taught business basics and the essentials of entrepreneurship. Through the TYE program, students develop self-confidence, presentation skills, leadership, and creativity.
Since 2010, the TYE Global Competition has been taking place in a different city each year. Some of the past locations have been Boston, Atlanta, Delhi, etc. Winning teams from around the world are invited to the city where the TYE Global Competition is held, and compete with other students from around the world.
The 2017 TYE Global Finals will be held in Orange County, California, organized by the TiE South Coast Chapter.
For more information on the Global TYE Final Competition:
http://oregon.tie.org/event/tye-global-2016/?instance_id=836
Twitter handle : #tyeglobals
About TiE Global
TiE Global is a non-profit organization dedicated to fostering entrepreneurship around the World. It was founded in 1992 by a group of successful entrepreneurs in Silicon Valley who wanted to give back to the community. TiE's mission is to foster entrepreneurship globally through mentoring, networking and education. TiE has 13,000 members in 60 Chapters in 18 countries around the world. TiE will be celebrating its 25th anniversary in 2017.
For more information on TiE, please visit: http://www.tie.org
Twitter : tieglobal, Facebook : tieglobal1
Press Contact
Rani Goel
VP Corporate Communications
TiE Global
(408) 250-8576
Source: TiE Global
Share: