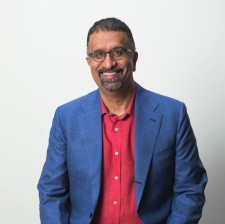 Suhas Patil passes the baton of chairmanship to Nitin Rai; Praveen Tailam is elected Vice Chairman of the TiE Global Board of Trustees
SANTA CLARA, Calif., January 24, 2018 (Newswire.com) - The Indus Entrepreneurs (TiE) Global Board of Trustees announced today that the trustees have elected Nitin Rai as its chairman of board of trustees.
Prior to being elected as chairman, Nitin was vice chair of the TiE Global Board. In addition, he serves as chair of the TiE Global Angel alliance, a new TiE initiative he launched in 2017. Nitin is also managing director of Elevate Capital, a venture fund in Portland, Oregon, that invests in underserved entrepreneurs, including women and communities of color. Nitin is currently the president of TiE Oregon and TiE Oregon Angels.
"I am truly honored to be chosen by my peer trustees to lead the TiE Global Board and work with them and the presidents of all TiE chapters," said Nitin Rai. "Our goal is to implement TiE 2.0, the next generation of TiE through our chapters, so we can further our global impact of mentoring and investing in the next generation of entrepreneurs globally. I am excited to work with the board members and teams who are all committed to help take TiE to the next level."
Nitin started his entrepreneur journey when he founded First Insight Corporation, an Oregon-based ophthalmic software company in 1994. First Insight is a leader in the eye care industry in electronic health records (EHR), practice management and e-commerce products for optometrists and ophthalmologists with its flagship product, MaximEyes. In addition, First Insight Corporation is well-known for its cloud-based ophthalmic image management system and Fast Pay Health, a full-service revenue cycle management services.
Nitin was preceded by Suhas Patil, co-founder of Cirrus Logic and co-founder of TiE Global, who completed his term as chair of TiE Global Board of Trustees at the end of 2017. Suhas was the first president of TiE in 1993 during the formative days of TiE. Suhas was a pioneer in building a semiconductor company based on the "fabless model" business strategy for the semiconductor industry, which changed the rules of the game in the $300 billion industry in the '80s and '90s. Suhas has been an active donor and philanthropist for the betterment of the Silicon Valley Bay Area community. Suhas will continue to serve as a member of the TiE Global Board of Trustees and will assist startups and entrepreneurs and TiE Chapters around the world.
"I am excited to pass on the leadership responsibilities of TiE Global to Nitin Rai," said Suhas Patil. "Nitin has been a driving force in the success of TiE Oregon to accelerate funding and growth, and his commitment to mentoring and investing in entrepreneurs is a key contributor to TiE Oregon's growth. My time as chair with TiE Global has been amazing and I look forward to further supporting TiE as a trustee member."
The TiE Global Board of Trustees has also elected Praveen Tailam as vice chair of the TiE Global Board. Since 2016, Praveen has served as president of the TiE Boston Chapter. Praveen co-manages multiple dental practices in New Hampshire and Maine in partnership with Aspen Dental, a leading nationwide Dental Service Organization. In 2006, Praveen founded Redtail Consulting, a Boston-area IT consulting practice and managed the business through 2012.
"It's a privilege to be elected as vice chair of TiE Global and I am honored to work alongside Nitin Rai and other visionary and entrepreneurial leaders," said Praveen Tailam. "I look forward to working with Nitin and the trustees, and to supporting TiE's goals of elevating our initiatives to the next level."
TiE was founded in 1992 in Silicon Valley by a group of successful entrepreneurs, corporate executives and senior professionals. There are currently more than 12,000 members and over 1,800 charter members in 60 chapters, across 12 countries.
About TiE Global
TiE Global is a non-profit organization committed to promoting entrepreneurship globally through mentoring, networking and education. TiE, a global network of entrepreneurs and professionals, was founded in 1992 in Silicon Valley, California, USA, with roots in the Indus region. Dedicated to the virtuous cycle of wealth creation and giving back to the community, the focus of TiE has always been to foster and nurture the next generation of entrepreneurs.
Currently, there are 60 TiE Chapters around the world which have become a vibrant platform for connecting entrepreneurs, professionals, industry leaders and investors. TiE Global is the largest non-profit organization fostering entrepreneurship, with an amazing networking effect. TiE connects the entire entrepreneurship ecosystem from early-stage entrepreneurs, serial entrepreneurs and professionals at leading corporations, venture capital, angel investors and thought leaders, among others. TiE Chapters operate independently and focus on serving their local region while being affiliated to TiE Global.
TiE Global Media Contact
Mohini Suchanti, Marketing Program Manager
Tel: 408-567-0700
Email: mohini@tie.org
Twitter: https://twitter.com/TiEGlobal
Website: www.tie.org
Source: TiE Global
Share: