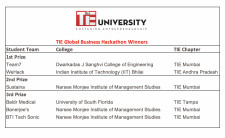 SANTA CLARA, Calif., April 2, 2021 (Newswire.com) - TIE Global hosted the finale of its inaugural Hackathon, as part of its TIE University program, on March 27-28, 2021. Cash prizes of $15,750 were awarded to 24 semi-finalist and finalist teams from colleges in the US, Canada and India. In-kind awards of $10,000 and internship opportunities were also made available.
First place went to two teams, namely TIE Mumbai's 'Team 7' from Dwarkadas J Sanghvi College of Engineering, and TIE Andhra Pradesh's 'Team WeHack' from Indian Institute of Technology (IIT), each winning $1750. TIE Mumbai's 'Team Sustaina' from NMIMS College came in second, winning $1000. Teams BTI Tech Sonic and Banerjee's (NMIMS) from TIE Mumbai, and TIE Tampa's team Baldr Medical from University of South Florida, bagged the third prize, and were awarded $750 each.
"It was a transformational experience to be part of the global hackathon. The mentorship, guidance and motivation provided will stand in good stead, all our lives," said a semi-finalist student.
The Hackathon received 2390 registrations from 22 cities in 7 countries. Close to 300 submissions were received for 20 business challenges, and 58 evaluators screened and coached the teams before reaching the semifinals. Judges and leaders were impressed to see the 50-50 gender ratio, where several women engineering teams were present in the semifinal and final rounds.
Praveen Tailam, TIE Global chairman said, "The TIE University Global Hackathon was the first of its kind for TIE. It was energizing for college students and coaches, chapter leaders and judges alike. The numbers are indeed awe-inspiring, and I'm enthused to see the Global Hackathon becoming a truly global asset for TIE."
TIE University co-chairs, Dr. Paul Lopez from TIE Atlanta and Ravi Puli from TIE DC activated the US/Canadian chapters, while Viiveck Verma and Subbu Pericherla from TIE Hyderabad activated several Indian and Asian chapters. Over the past few years, TIE University's co-chairs and organizing team have delivered a successful program that serves university students in communities where TIE is present.
Generous support came in from sponsors and partners, championing the cause of skilling our future leaders. TIE Hackathon sponsors included Algorand Foundation, Ansys, Azent Overseas Education, Borderless Capital, Buddi.AI, Colaberry, Convosight, Emrit, 33Holdings, Husys, Revature, Smartbridge, Technomile, and Wemanage who provided challenges in the field of blockchain, AI/ML, cryptocurrency, healthcare, and social media.
Distinguished judges included Sean Lee, PK Gulati, Ramesh Loganathan, Faye McIntyre, Mahavir Sharma, CN Madhusudan, Rajneesh Bhandari, Suresh Raju, Mahalingam Ramasamy, Nayan Patel, Srish Agrawal, Murali Kakarla, Bhaskar Kalale, and Shiva Thirumazhusai.
About the TIE University Program
TiE University, an initiative of TIE Global aims to foster entrepreneurship among college students. University startup teams gain access to learning resources, mentorship by successful entrepreneurs and opportunities such as hackathons, bootcamps, and pitch competitions. These interactions and experiences help students build their campus idea into a viable business.
For more information, visit www.tieuniversity.org
Source: ​​​​​​​TIE Global
Share: