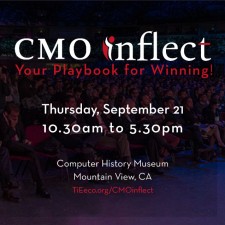 Industry-leading CMOs to deliver thought-provoking talks at the inaugural event
Santa Clara, CA, September 19, 2017 (Newswire.com) - ​​​​​​​TiE Silicon Valley, a not-for-profit organization dedicated to fostering global entrepreneurship, announces its inaugural CMO Inflect event, a summit for senior marketing and other revenue-driving executives. The event will be held on September 21st at the Computer History Museum in Mountain View, and will explore areas such as lifecycle marketing, voice of the customer, RevOps, and AI for Marketing.
CMO Inflect delivers rich and engaging content from more than a dozen speakers with deep marketing expertise. Speakers include Jeffrey Hayzlett, the former CMO of Kodak and currently a radio and television host for business-minded audiences; Chandar Pattabhiram, CMO of Coupa Software and former CMO of Marketo; Alix Hart, NVIDIA's Global Head of Digital Marketing; René Bonvanie, CMO of Palo Alto Networks; Vinay Bhagat, founder & CEO of TrustRadius; Nick Edouard, President and CMO of LookBookHQ; and Sydney Sloan, CMO of Alfresco.
"The CMO Inflect audience will be delighted to hear from some of the hottest marketers practicing today," said Manish Gupta, conference chair and CMO of Redis Labs. "The marketing role has never been more dynamic, analytical or broader in scope. Staying ahead of changes is vital to all marketing leaders and this event will bring new insights, experiences and strategies to light from successful practitioners."
"I am thrilled to be speaking at TiE's CMO Inflect event. As an entrepreneur and former CMO of a Fortune 500 company, marketing is at the forefront of every decision made by all companies, big or small. I look forward to the opportunity to meet with some of the brightest minds in marketing and collaborate with an organization looking to strengthen the entrepreneurial ecosystem," said Jeffrey Hayzlett, C-Suite TV Host and Chairman of the C-Suite Network.
"More now than before, CMOs are in the front seat to shape customer engagement and to drive revenue strategically for their companies," said Chandar Pattabhiram, CMO of Coupa Software and strategic advisor for the event. "CMO Inflect is a must-attend event for CMOs and marketing executives because it offers the essential playbook on the digital marketing techniques, technology and talent needed for success today and tomorrow."
TiE Silicon Valley expects over 200 marketers to attend and benefit from the content as well as network with like-minded professionals and thought leaders. Core to TiE's mission is holding events that bring together technology leaders, and CMO Inflect is its latest effort to embody this spirit. TiEcon (now branded as INFLECT), TiE Silicon Valley's flagship annual conference, has regularly attracted over 5,000 attendees from all over the world, and has featured keynote speakers like Mark Benioff, Meg Whitman, John Chambers, Jack Welch, Elon Musk, Larry Ellison and many others.
For more information about CMO Inflect, visit www.tieeco.org/cmoinflect.
About TiE Silicon Valley
TiE Silicon Valley is a not-for-profit organization dedicated to fostering entrepreneurship in the Bay Area, as well as globally. TiE strives to inspire entrepreneurs through mentoring, networking, education, incubating and funding programs and activities. With nearly 50 events held each year, TiE brings together the entrepreneurial community to learn from local leaders, as well as each other.
Contact:
Dipty Desai​​​​​​​​, Program Director
programs@tie.org
Source: www.tieeco.org/cmoinflect
Share: